Welcome to our exhilarating Paint Splatter Room! Step into a world of vibrant colors and unleash your inner artist in an experience like no other. Book a splatter session at Urban Escape in Ardmore today!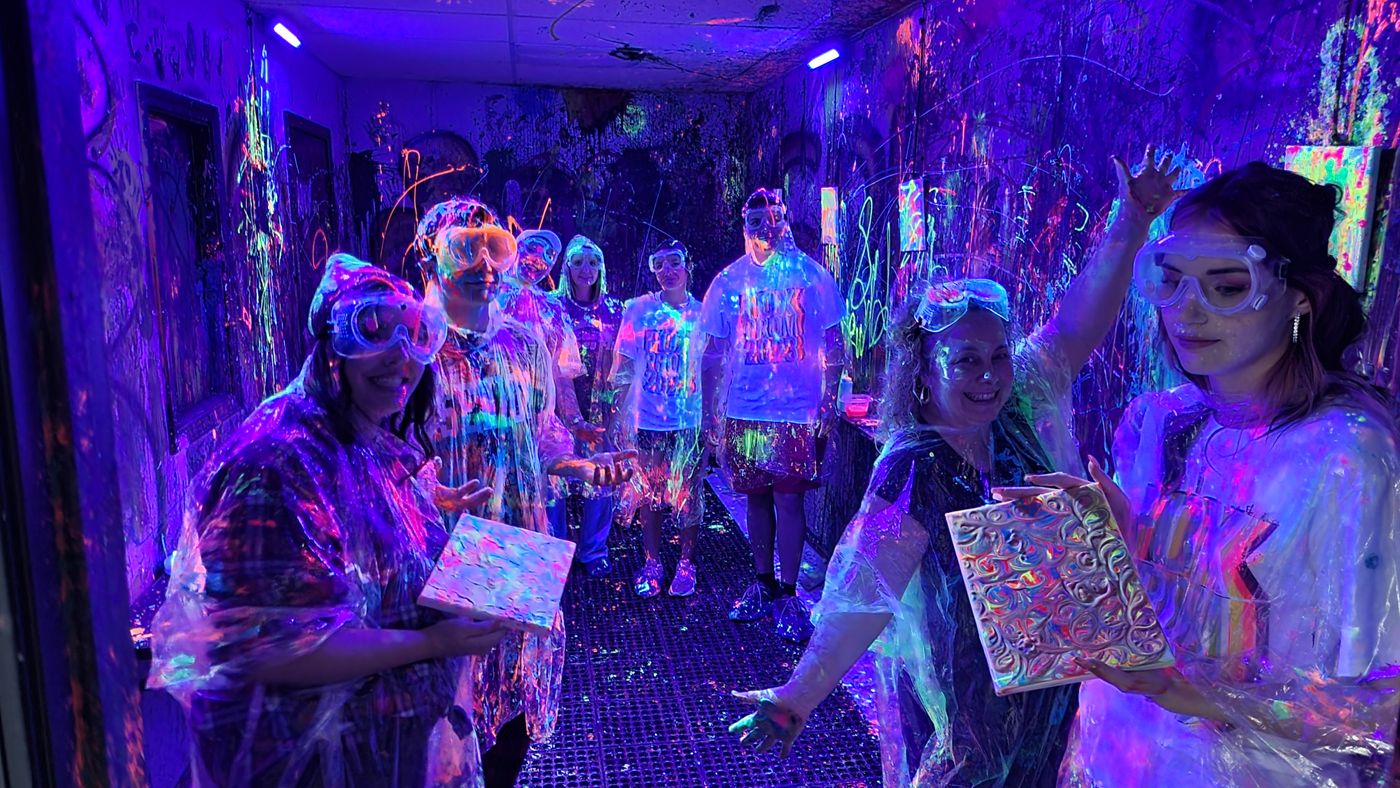 Splatter Room
$19 per person | 30 Minutes
Up to 8 participants per booking
What you get:
9x12 Canvas and Protective Box
Neon Paint Colors (Tempera Washable)
Paint Brushes
Pallette
Paint Gun Squirters
Black Light
Bluetooth Speaker
Goggles
Experience Booster Add-Ons:
Splat Balls (Very Popular!) (+$5 each*)
White Splatter Souvenir T-Shirt (+$5 each*)
ONE more Paint (+$3)
Double Paint (+$8)
Protective Add-Ons:
Poncho (+$2 each)
Shower Cap (+$1 each)
Shoe Covers (+$1 each)
Car Sear Protector (+$1 each)
*2XL $9 | 3XL $12
20% discount for groups of 8 or more 10% discount to Military and First Responders (valid identification required)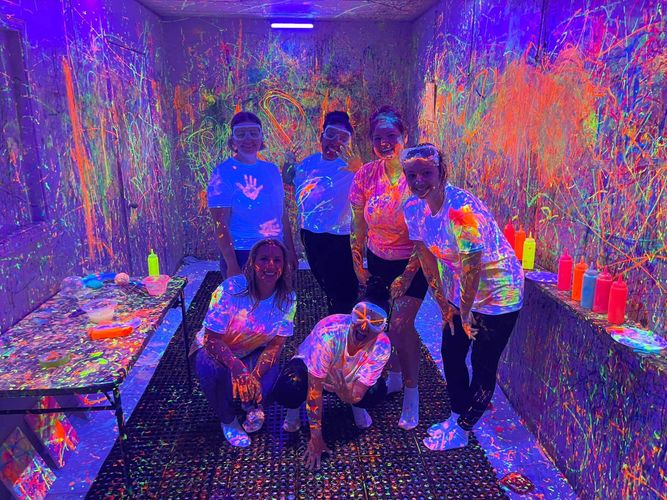 Great for Special Events!
Whether you're planning a birthday party, team-building event, or simply seeking a unique and exciting activity, our Paint Splatter Room offers an immersive and engaging experience for all ages. Our friendly staff will guide you through the process, ensuring a safe and enjoyable time.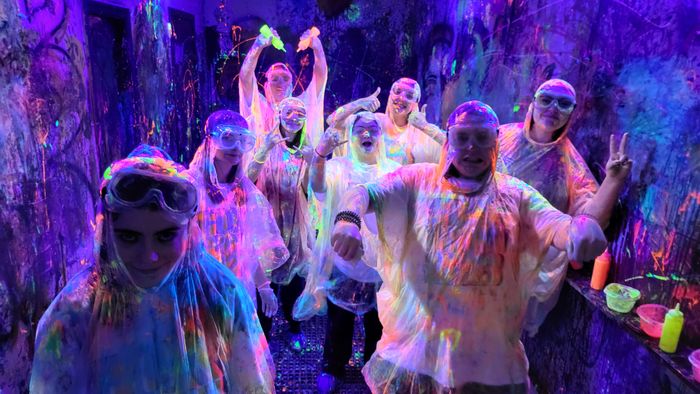 No Artistic Skills Needed!
No artistic skills are required to enjoy this adventure. Simply grab a paintbrush or paint gun squirter, your favorite colors, and let the splattering begin! Capture the joy and laughter as you and your friends create collaborative artworks or compete in friendly paint battles.
SPLATTER ROOM FREQUENTLY ASKED QUESTIONS
DO I NEED TO BRING ANYTHING/HOW CAN I PREPARE?
Our paint splatter room is a super fun experience for you to be as creative as you want or just fling paint everywhere and have a blast! You can choose to wear some old clothes, purchase protective gear or buy white shirts that you can take home as a souvenir! With our blacklights and neon paint colors, paint guns, brushes, and Bluetooth speaker you're sure to have a great time!
IS THERE AN AGE LIMIT?
Our Paint Splatter Rooms are designed for all ages. Participants who are 11 years or younger must be accompanied by an adult. Children will need a parent, guardian, or adult chaperone's signature on a waiver in order to participate.
WHAT TIME SHOULD I ARRIVE?
Guests should arrive 15 minutes ahead of their scheduled reservation in order to check in and receive the purchased items. If you are more than fifteen minutes late, your booking will automatically be cancelled. All sales are final. Our paint splatter room is a live event, so once a booking is confirmed, refunds and cancellations are not accepted.
WILL OTHER PEOPLE BE IN THE ROOM WITH MY GROUP?
No, all Paint Splatter Rooms are private. Only the people you bring with you will be in the room.
DO YOU ACCEPT PHONE BOOKINGS/WALK-INS?
We accept online bookings 24 hours a day on our website. Phone bookings can be made from 9am-10pm daily. Walk-in bookings are currently only available Friday-Sunday, we highly encourage our customers to book an advance reservation to secure the desired game and time slot. You don't want someone to book the time you want before you walk-in.
WHAT IS THE CANCELLATION POLICY?
All sales are final. However, you may reschedule your booking if you contact us at least 24 hours prior to the reservation. If you are more than fifteen minutes late, your booking will automatically be canceled and no refund given. No refund will be provided if you cancel your booking less than 24 hours of your allotted time or a no-show.
CAN I HAVE MORE PLAYERS THAN THE MAXIMUM ROOM SIZE?
Unfortunately, our rooms are designed for a minimum and maximum number of players. If you have more than the room maximum, we suggest splitting up and booking another room.
HOW DO I BOOK A LARGE GROUP/CORPORATE EVENT?
Feel free to email or call us with all the details and we will gladly get you accommodated!
Book Today!
Book your session in our Urban Escape Paint Splatter Room in Ardmore today and get ready to dive into a world of colorful chaos and unforgettable memories!